Posts for tag: mouthguards
By New Season Dental
April 04, 2019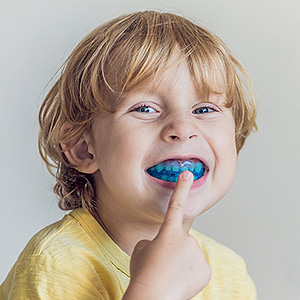 April brings the perfect weather to get outside and play. Fittingly, April is also National Facial Protection Month. Whether you prefer softball or basketball, skateboarding or ultimate frisbee, don't forget your most important piece of equipment: a mouthguard to protect your face and your smile!
In an instant, a blow to the mouth can cause a dental injury that is painful to endure and expensive to treat. In just about any sporting activity, your mouth could come into contact with a piece of equipment, another person or the ground. That's why the American Dental Association and the Academy for Sports Dentistry recommend using a mouthguard when participating in any of over 30 activities, including some that aren't typically considered contact sports, like volleyball and bike riding.
Common sense, observation and scientific research support the use of mouthguards during sporting activities—but are the ones you get from your dentist really any better than the kind you can grab off the shelf at a sporting goods store or drugstore? The answer is yes!
In a 2018 experiment, researchers created a model of the human head to test how direct impact affects the teeth, jaws and skull. They compared the effects of impact when using no mouthguard, when using a custom-made mouthguard available from the dentist, and when using a stock mouthguard. They also tested mouthguards of different thicknesses. The results? The experimenters determined that any mouthguard is better than no mouthguard and that custom mouthguards available from the dental office are more effective than off-the-shelf mouthguards in protecting teeth, jaws and skull from impact. They also found that the thicker the mouthguard, the better the protection.
Although custom mouthguards are more expensive than the kind you can buy at the corner store, the difference in protection, durability, comfort and fit is well worth the investment. We consider your (or your child's) individual needs, take a precise model of your mouth and provide you with a custom-fit mouthguard of the highest quality material.
Don't ruin your game. A mouthguard can go a long way in protecting your teeth and mouth from injury. If you would like more information about a sports mouthguard, please contact us or schedule an appointment for a consultation. To learn more, read the Dear Doctor magazine articles "Mouthguards" and "An Introduction to Sports Injuries & Dentistry."
By New Season Dental
January 24, 2019
What's your favorite winter sport? For some, it's all about swooshing down a snowy trail on skis, a board, or a sled. For others, the main attraction is skating at an ice rink or a frozen pond. If you're more of an indoors athlete, you may enjoy a fast-moving game of basketball or a round of squash. Or, you might take a turn on a climbing wall or a trampoline.
What do all these activities have in common? They're fun, they're great exercise…and they all come with a risk of injury to your teeth.
It's easy to see how a collision on snow or ice could result in a blow to the mouth. But did you know that basketball (along with hockey) is among the sports with the highest risk of facial injury? What's more, many "non-contact" sports actually have a similar risk.
Located front and center in the face, the incisors (front teeth) are the ones most likely to sustain injury. Unfortunately, they are also the most visible teeth in your smile. With all of the advances in modern dentistry, it's possible to restore or replace damaged teeth in almost any situation—but the cost can be high, both for present restoration and future preservation. Is there a better alternative?
Yes! It isn't sitting at home—it's wearing a custom-made mouthguard when there's a risk of facial injury.
Most people don't ski or play hockey without protective gear like a helmet. A mouthguard can effectively protect against dental injury that might otherwise be serious. Available here at the dental office, a custom mouthguard is made from an exact model of your own teeth, so it's comfortable to wear and fits perfectly—but no safety equipment can work if you don't use it!
So whether you like to hit the trails or the gym this winter, don't forget to bring a custom-made mouthguard. It's a small piece of gear that can save you from a big headache!
If you would like more information on mouthguards, please contact us or schedule a consultation. You can learn more by reading the Dear Doctor magazine articles "Athletic Mouthguards" and "An Introduction to Sports Injuries & Dentistry."
By New Season Dental
May 12, 2017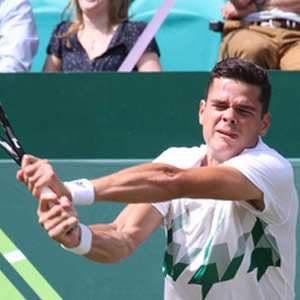 When you're among the top players in your field, you need every advantage to help you stay competitive: Not just the best equipment, but anything else that relieves pain and stress, and allows you to play better. For top-seeded Canadian tennis player Milos Raonic, that extra help came in a somewhat unexpected form: a custom made mouthguard that he wears on the court and off. "[It helps] to not grind my teeth while I play," said the 25-year-old up-and-coming ace. "It just causes stress and headaches sometimes."
Mouthguards are often worn by athletes engaged in sports that carry the risk of dental injury — such as basketball, football, hockey, and some two dozen others; wearing one is a great way to keep your teeth from being seriously injured. But Raonic's mouthguard isn't primarily for safety; it's actually designed to help him solve the problem of teeth grinding, or bruxism. This habitual behavior causes him to unconsciously tense up his jaw, potentially leading to problems with muscles and teeth.
Bruxism is a common issue that's often caused or aggravated by stress. You don't have to be a world-class athlete to suffer from this condition: Everyday anxieties can have the same effect. The behavior is often worsened when you consume stimulating substances, such as alcohol, tobacco, caffeine, and other drugs.
While bruxism affects thousands of people, some don't even suspect they have it. That's because it may occur at any time — even while you're asleep! The powerful jaw muscles that clench and grind teeth together can wear down tooth enamel, and damage both natural teeth and dental work. They can even cause loose teeth! What's more, a clenching and grinding habit can result in pain, headaches and muscle soreness… which can really put you off your game.
There are several ways to relieve the problem of bruxism. Stress reduction is one approach that works in some cases. When it's not enough, a custom made occlusal guard (also called a night guard or mouthguard) provided by our office can make a big difference. "When I don't sleep with it for a night," Raonic said "I can feel my jaw muscles just tense up the next day. I don't sense myself grinding but I can sort of feel that difference the next day."
 An occlusal guard is made from an exact model of your own mouth. It helps to keep your teeth in better alignment and prevent them from coming into contact, so they can't damage each other. It also protects your jaw joints from being stressed by excessive force. Plus, it's secure and comfortable to wear. "I wear it all the time other than when I'm eating, so I got used to it pretty quickly," said Raonic.
Teeth grinding can be a big problem — whether you put on your game face on the court… or at home. If you would like more information about bruxism, contact us or schedule an appointment for a consultation. You can learn more in the Dear Doctor magazine articles "Stress & Tooth Habits" and "When Children Grind Their Teeth."